Workshop Report "Visual Facilitation Lab" by Tim Hamons on 15th September 2018
This post is also available in:
日本語 (Japanese)
We've run a workshop about graphic recording and visual facilitation, "Visual Facilitation Lab" inviting Tim Hamons from Singapore.
Tim Hamons is a founder of "Art of Awakening" and well known as a high profile graphic recorder and visual facilitator with over 20 years experiences in leading teams and individuals towards greater success.
He also runs numerous times of training workshops where audiences can learn to use the powerful tools of visual communication to more effectively engage team or individuals.
It's a first time to run his workshop in Japan.
What's Visual Facilitation? Graphic Recording?
The terms "Graphic Recording" or "Visual Facilitation" are recently getting familiar to those who're interested in facilitation. However, these two words stand for different meanings.
Graphic Recording means the activity which tries to depict what the process of discussion or workshop looks like. Graphic recorder focuses on observing and drawing and barely intervene the process. Visual facilitation means the way to facilitate using the visual tools in order to get more engagement in the process of facilitation. Visual facilitator basically behaves as a facilitator.
Meanwhile, required competencies are similar for both roles. In this workshop, participants achieved to learn core principle, process, skills and templates required for Graphic recording and Visual facilitation and experienced to draw Graphic recording actually.
In this report, we use the term "Visual facilitation" as the word which stands for key substance of both "Graphic Recording" and "Visual Facilitation".
※You can learn what it looks like from this workshop report video run in Japan September 2018.
※You can also refer to the workshop report run in Japan September 2018.
Every drawing is a gift
Tim Hamons shared the most important principle of Visual Facilitation, "Every drawing is a gift". It's not about how to draw better or more appropriate, it's about how to express our ideas. We should be more encouraged to draw something to express our ideas or what we share. People are more engaged by something which is suggestive, than by something which is complete. So pick the marker and draw something, and then we will spontaneously learn from it.
In the beginning of the workshop, Tim invited participants to safe space where they can be relaxed and reflect themselves to ask their objectives to join it. Indeed, various back ground people joined this workshop. Some are well experienced graphic recorders or graphic recording trainers, some are professional facilitators, some are facilitation learners and some are just interested in keyword "Visual".
We shared our strength and our learning objectives in graphical formats and exchanged portrait drawing. And we learned key principles and attitude for visual facilitation.
Templates which make it easier to draw
Learning some templates are helpful for us to make it easier to draw. For example, we can draw almost anything using 6 basic shapes, Circle, Triangle, Square, Cloud, Wave, Arrows.
We tried to draw what represents a specific keyword like leadership, communication, innovation in short time 30 sec for each word. In this restricted time, we must make it simple and single out key element of a word using simple shapes. As a result, we found what we see in each keyword.
In "leadership", most of participants express the one person who stands out or hierarchy. In "Communication", most express the multiple persons, face to face shape or relationship. In "Innovation", many try to express something is changing by drawing jump, airplane, arrow.
Through this simple drawing, we learned we are unknowingly trying to express something meaning by drwaing models, relationship, process and we found what perception we share.
Listening
Most of graphic recording is run along with the real time process of the discussion or workshop. So listening skills are most important skills for graphic recorder.
I actually witnessed how amazing listening skills of graphic recorder is in my own workshop. ( Please refer to this article.)
Tim demonstrated a live graphic recording to show actual sample in the workshop, by interviewing me about my story.
Despite I'm talking my past career in unstructured story, Tim crafted my talk like a staged drama. Tim picked a significant word among what I was talking, and weaved a series of occurrence as a journey heading to a certain goal.
Interview and drawing journey
And then, all participants had pairs and each pair had interviewed a partner listening to his/her story and drawn the journey.
We set up many flipcharts spots on classroom walls and all participants used these. At the ed of the worksop, we were surrounded by many drawings stuck to walls and we shared our all journeys.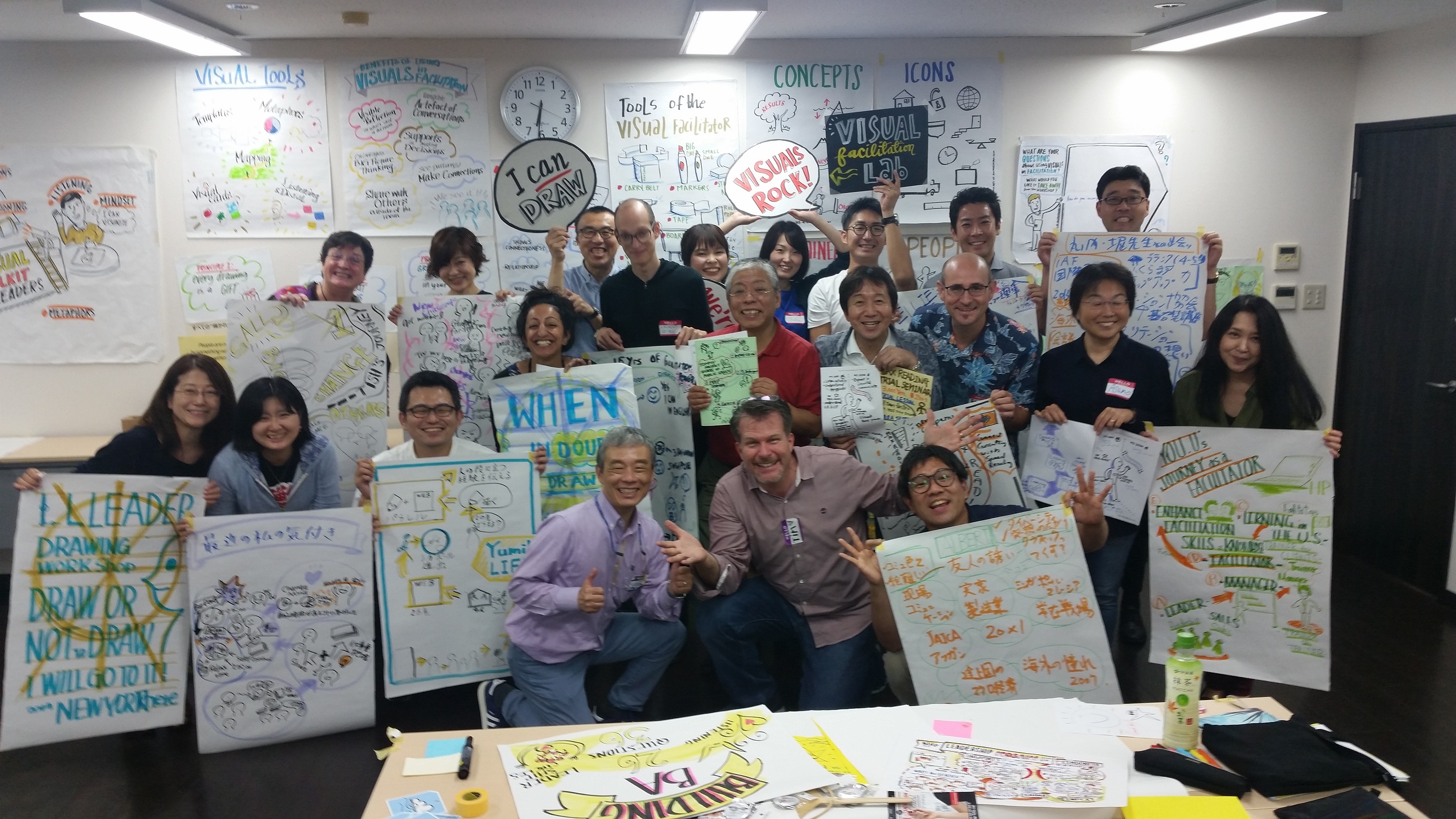 Workshop Particular
Date/Time
15 Saturday September 10:00 AM -6:00 PM
Venue
Accea Hanzomon Meeting Room 1
Level 5 US Hanzomon Building, 2-13 Hayabusa-Cho Chiyoda-ku, Tokyo
Organizer
Knowledge Signs Inc.
Facilitator
Tim Hamons

Timothy Hamons is a dynamic and creative trainer, and facilitator, with over 20 years experience in leading teams and individuals towards greater success. He designs and delivers programmes on personal and organizational creativity, and facilitates visual thinking / visual recording to capture, connect, and synthesize key conversations at conferences, strategy sessions, and innovation initiatives.

He worked with Landor Associates in San Francisco and London and developed corporate identity and communications programs for clients from a variety of industries in Europe and America. In 1991 he moved to Singapore, where he started and ran his own successful visual communications consultancy for 10 years. He has worked with over 50 leading companies in Europe, USA, and Singapore to express their identity and values through written and graphic communications programs.

He has led teams and has supported training events in the personal development industry for over 20 years. He has worked as an assistant trainer with much leading training and events organizers including Success Resources, Money & You, and AsiaWorks. He is an active member of the Facilitators Network of Singapore, and Asia Professional Speakers- Singapore.

He contributes to community development through his volunteer work with a variety of organizations. He has mentored at-risk youth through a programme called "CampVision" and supported families to develop a " creative family vision" plan with People's Association.

He has designed and delivered workshops, facilitation, and visual harvesting sessions for many leading organizations in Singapore, Malaysia, Indonesia, Hong Kong, South-East Asia and Australia.

Upcoming Visual Facilitation Workshop

Upcoming Facilitation Workshop "SPOTlight on Facilitation"
This post is also available in:
日本語 (Japanese)